Low noise level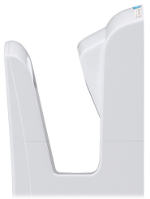 Thanks to its noise level of just 59dB, Jet Towel is one of the quietest high-speed hand dryers on the market. Air speed can be adjusted to further reduce noise levels.
Its innovative nozzle, thanks to the advanced technology developed by Mitsubishi Electric that allows the control of both the airflow and the jet of air, solves the problem of the noise produced by the interference of airflows.
Power control
Users can select the best operating mode according to the areas where the system is to be installed.
| Mode | Air speed (m/s) | Noise (dB) |
| --- | --- | --- |
| High | About 80 | About 59 |
| Low | About 50 | About 52 |